Hi!
My name is Meredith Tate, and I'm a New Hampshire author currently transplanted in the Midwest (St. Louis, MO) with my husband. I have a master's degree in social work from the University of New Hampshire, and am a licensed certified social worker in Massachusetts (which isn't super helpful in MO…). While I'm not currently working in the field, I enjoy bringing psychology and social work into my writing.
I love reading and writing in all genres, but particularly enjoy anything under the "speculative fiction" umbrella — the darker, the better! My books have twist endings, a body count, and always pass the Bechdel test.
My debut novel MISSING PIECES comes out in Spring 2015! Find out more under Books!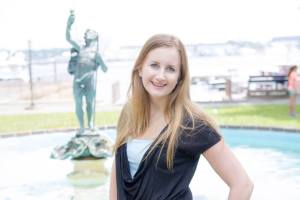 Here's 10 random facts about me!
1. I lived in London for four months, and it was the best four months of college ever.
2. Like so many New Englanders, my favorite food is lobster. I can crack one open like a pro.
3. I've traveled to three continents, and my life dream is to visit all seven!
4. I've been playing piano since I was 9 years old.
5. My favorite book is Harry Potter and the Deathly Hallows. I dressed as Bellatrix for the midnight book release. My friends were embarrassed to stand with me.
6. I can quote every line of The Office, and frequently do so in normal conversation. If you can quote Michael Scott in a sentence, I guarantee we will be friends.
7. I'm still mourning the death of Firefly.
8. I was a huge marching band geek in high school. I went to band camp every summer. Seriously.
9. My favorite place is Disney World. Second favorite is Bar Harbor, Maine.
10. I love animals. I especially love geese. They're awesome.
Photo Credit: Steve Shannon
Banner Design: Lizzie Siegel
I'm a member of the St. Louis Writer's Guild.