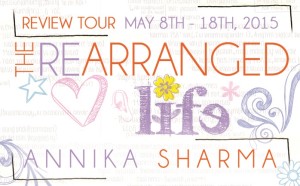 Today I'm SO excited to be part of Curiosity Quills' review tour for one of my close writer buddies! My friend Annika Sharma's debut new adult romance, THE REARRANGED LIFE, officially comes out in FIVE days!!! That's right, you can buy it on May 15! I LOVED this book - trust me, you won't be able to put it down! Read through the bottom for a chance to win a $25 Starbucks giftcard too!
Here's a little about the book!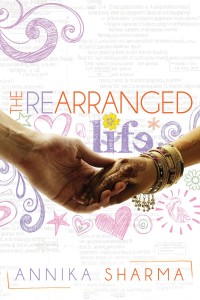 Nithya, a vivacious, intelligent and driven college senior has always known what she has wanted: a successful career in medicine and the love of her family. She's even come to terms with the idea of an arranged marriage, a tradition her conservative Indian family has held up for thousands of years.
When a night of partying puts her on a collision course with danger, Nithya's entire life changes.
Enter James St. Clair, the smart, challenging and heartbreakingly handsome American. As Nithya and James fall in love, she questions the future she and her parents have always planned.
Now, Nithya has a choice to make: become a doctor and a good Indian bride, or step away from her family and centuries of culture to forge her own path. The decision she comes to takes her on a journey that transforms how she sees her future, her relationships with loved ones, and how she learns to put herself back together when even her best-laid plans fall apart.
Order it now! Amazon US | Amazon UK | Goodreads
About the Author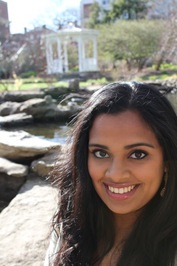 Annika Sharma was born in India and moved to the United States (Pennsylvania!) when she was a baby. Annika was a daydreamer from day one, always coming up with stories and games of pretend that seemed real. She was a serious journal-writer from fifth grade to college and wrote dramatic scenes for stories often, inspired by soap operas she watched in summers off from school.
Eventually, when the time for college came around, Annika's parents encouraged her to pursue journalism. Convinced she couldn't make a living from writing, Annika disagreed. After five years, two degrees, two minors, working with children, being a dancer teacher, and creating a two-and-a-half page resume in college that had interests so all-over-the-place that even she couldn't make sense of it, Annika finally decided her parents were right. Writing was where her heart was, all along.
In the month before graduate school, the idea Annika had in mind for years finally poured out in the form of the novel, The Rearranged Life. Annika began editing in earnest after she finished her Master's degree in Early Childhood Special Education, landing Stacey Donaghy of Donaghy Literary Group as an agent. Three months later, she had a book deal with Curiosity Quills.
In her spare time, Annika loves spending time with her family and friends, often indulging in the three S's: Starbucks, shopping and superhero movies. As a chocolate lover and general all-around vegetarian foodie, Annika also adores cooking.
Find Annika online! Website | Facebook | Twitter | Goodreads

*My Review*
First of all, a disclaimer: Annika Sharma is my friend. Anyone who follows either Annika or me on twitter probably sees us being silly and chatting a lot.
However, another disclaimer: an author being my friend does not mean I automatically provide a glowing review. I always strive to review books honestly, in all fairness to 1. the author, 2. the readers checking my reviews, and 3. my credibility. If I really dislike a book, and feel an honest review would hurt the author, I just don't write anything.
But when I LOVE a book, it makes writing an honest review SO easy! And let me just say, I loved Annika Sharma's debut, THE REARRANGED LIFE.
This was such a wonderful and thought-provoking book! I couldn't put it down. I'll admit, I didn't know much about Indian culture and modern day arranged marriage before reading THE REARRANGED LIFE. I'm so used to reading and seeing arranged marriage books where the woman is forced into marriage with a stranger against her will, and she meets him at the altar for the first time.
This is nothing like that.
Nithya has a loving, caring family who are a huge part of her life. For the most part, Nithya's parents are tremendously supportive. They don't want to choose her spouse for her (although they would be delighted if Nithya chose Nishanth, son of a close family friend, and aren't opposed to nudging her in that direction); however, they are very specific and set in their wishes that Nithya marries an Indian boy. Nithya is on board with this (after all, she wants to marry someone who will understand her culture, her family's traditions and inside jokes) until she meets her classmate James. James is handsome, smart...and American. Dating an American is seen as taboo in her culture. She struggles with her feelings for James, because it forces her to question her priorities, her loyalty to her family, and her commitment to her culture. She feels strong connections to both her family / Indian culture and roots, and to American culture.
Yes, this book has a romance, but to me it was ultimately a book about self-discovery and trying to find your place between two cultures. Nithya struggles with her choice to enter the medical field (a choice that was highly influenced by the expectations of her family and culture) and worries about stepping out of her comfort zone when those plans she's had her whole life don't work out. There is a really great scene where Nishanth's family comes to Nithya's house, and everyone is so obviously pushing the two of them together that Nithya just feels so uncomfortable. I really felt her discomfort with the whole situation! Anyone who has struggled with growing up and coming into your own identity will be able to relate to Nithya's struggles.
I learned a lot about Indian culture and traditions from this book, and to be honest I saw both Nithya and her parents' points of view on the issue. I loved the scene of Nithya's cousin's Indian wedding.
I loved that this book was not black and white. There was no "right" answer and "wrong" answer. Nithya has a positive relationship with both Nishanth and James, and struggles with the fact that either man would be a good match for her in different ways. I loved James, and I also loved Nishanth, and both boys had moments that made me swoon (and made Nithya's choice that much harder). Nithya's choice ends up becoming a choice between what is more comfortable and compatible on paper, and what her heart really wants.
James' parents also worry about his relationship with Nithya, as they don't want their son left broken hearted if Nithya were to choose her culture over him. It all felt very realistic and heart wrenching. It's a modern story about choices and sacrifices, and family and culture and loyalty. It's also beautifully written.
I loved this book, and would recommend it to anyone. Five stars!
Be sure to check out THE REARRANGED LIFE on May 15!!! You won't want to miss it!