I'm so excited to be a blog host for my friend Ara Grigorian's debut novel, GAME OF LOVE! I was lucky enough to read an advance copy of this book, and can honestly say that you don't want to miss this awesome NA contemporary sports romance!
GAME OF LOVE officially comes out on May 4 through Curiosity Quills Press.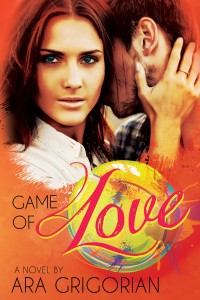 Summary
Gemma Lennon has spent nearly all of her 21 years focused on one thing: Winning a Grand Slam.
After a disastrous and very public scandal and subsequent loss at the Australian Open, Gemma is now laser-focused on winning the French Open. Nothing and no one will derail her shot at winning – until a heated chance encounter with brilliant and sexy Andre Reyes threatens to throw her off her game.
Breaking her own rules, Gemma begins a whirlwind romance with Andre who shows her that love and a life off the court might be the real prize. With him, she learns to trust and love…at precisely the worst time in her career. The pressure from her home country, fans, and even the Prime Minister to be the first British woman to win in nearly four decades weighs heavily.
As Wimbledon begins, fabricated and sensationalized news about them spreads, fueling the paparazzi, and hurting her performance. Now, she must reconsider everything, because in the high-stakes game of love, anyone can be the enemy within…even lovers and even friends. In the Game of Love, winner takes all.
Order GAME OF LOVE on Amazon!
My Review
This book. I loved this book. I went into it having no idea what to expect. I have generally held the opinion that I am not a fan of sports books, or books told in third person; Ara Grigorian has proven me wrong.
Gemma Lennon has spent her whole life playing tennis, with the hopes of someday winning the Grand Slam. Andre Reyes is a genius who graduated college at 14 and now works in a prestigious firm, essentially as a high-powered consultant. They are both career-driven individuals, who were essentially thrust into these roles as children as never given the opportunity to develop meaningful relationships.
When the two meet completely by chance, they can't deny the striking chemistry between them. Despite the obvious obstacles in their way – living on separate continents, Gemma's paparazzi stalkers desperate to latch onto any minute detail of her personal life, Andre's upcoming career commitment that will take him away for months, and Gemma's distrust of others due to past relationships – they can't seem to forget each other.
One thing that immediately drew me to this book was that the woman was the star athlete, and Gemma kicks some major butt on the tennis court. This book had moments that made me laugh out loud, and moments that wrenched my heart. I loved the two main characters – who were both so interesting and well-developed – and found myself eagerly turning pages to see what would happen. There are several twists in this book as well, that will keep the reader guessing. Don't let the sports-romance genre fool you; while this book has a sweet love story at its core, and an awesome tennis star main character, neither aspect felt overwhelming to me. It's a beautifully written page turner, and I would highly recommend it to anyone, including people who shy away from sports romance.
Ara is a masterful storyteller, and I can't wait for his future books!
FIVE STARS!
About the Author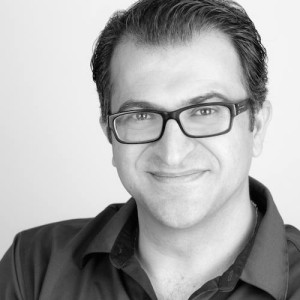 Armenian by heritage, born in Iran, lived in Barcelona, and escaped New York until he found his home in Los Angeles, Ara's first eleven years were both busy and confusing. The fruit salad of languages would slow down his genetically encoded need to tell stories. Until then, an alter ego would be required…
He received an engineering degree from California State University Northridge and earned his MBA from the University of Southern California. Today, he is a technology executive in the entertainment industry. True to the Hollywood life, Ara wrote for a children's television pilot that could have made him rich (but didn't) and nearly sold a video game to a major publisher (who closed shop days later).
But something was amiss until his wife read him the riot act. "Will you stop talking about wanting to be a writer and just do it?" So with her support (and mandate), and their two boys serving as his muse, he wrote stories.
Fascinated by the human species, Ara writes about choices, relationships, and second chances. Always a sucker for a hopeful ending, he writes contemporary romance stories. He is an alumnus of both the Santa Barbara Writers Conference and Southern California Writers' Conference (where he also serves as a workshop leader). Ara is an active member of the Romance Writers of America and its Los Angeles chapter.
Ara is represented by Stacey Donaghy.
Website | Facebook | Twitter | Blog | Goodreads